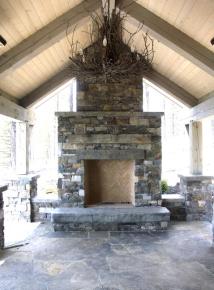 Located on Big Mountain in Whitefish Montana, and completed in 2009, this project features ashlar stone patterning. The stone selected includes a unique color blend of reds, rusts, browns and black. The scope of the project included three interior fireplaces, a patio fireplace, columns, an arch, extensive veneering,
Castworks Inc. architectural elements,
and an indoor-outdoor shower and tub surround.